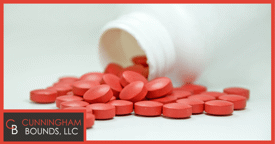 Every once in a while, certain prescription or over-the-counter (OTC) medications will be pulled from the market after the discovery of adverse side effects or dangerous ingredients.
Such was the case with the popular heartburn medication Zantac®, which was pulled from shelves in late 2019.
Learn why Zantac® was recalled and what you can do if you have been harmed by this medication.
A Toxic Ingredient
In September 2019, an online pharmacy that is licensed in 38 states discovered that Zantac® and other ranitidine medications contained dangerous levels of N-Nitrososdimethylamine (NDMA), a human carcinogen.
The level of toxicity in one Zantac® pill exceeded that of 30 packs of cigarettes.
Consequently, the U.S. Food and Drug Administration asked manufacturers, distributors, and retailers to pull Zantac® and other ranitidine medications from store shelves.
Does Zantac® Cause Cancer?
NDMA is a substance that is very dangerous at high levels. The FDA recommends no more than a 96 ng intake of NDMA per day. One Zantac® tablet contained over 3,000,000 ng of NDMA.
Exposure to NDMA is associated with the development of the following cancers:
Colorectal cancer

Stomach/gastric cancer

Small intestine cancer

Esophageal cancer

Liver cancer

Prostate cancer

Pancreatic cancer

Leukemia

Non-Hodgkin's lymphoma

Multiple myeloma
What to Do if You Got Cancer After Taking Zantac®
If you or a loved one developed cancer after using Zantac® or another ranitidine medication, contact our experienced personal injury attorneys at Cunningham Bounds, LLC. We have protected plaintiffs' rights against the interests of large corporations for over 60 years, and we have built a national reputation for our trial expertise and precedent-setting verdicts.
We're here to help you through this difficult time.
Contact Cunningham Bounds, LLC at (251) 299-0101 to schedule a consultation.