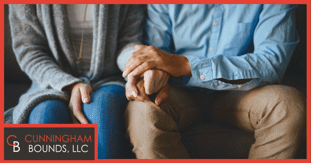 A wrongful death can leave surviving family members in emotional turmoil. The knowledge that a loved one died due to an avoidable accident caused by another's negligence can be difficult to bear.
Below, we discuss some coping tips to help family members move forward after a relative's wrongful death.
What is a Wrongful Death?
A death is considered "wrongful" when someone dies due to the negligence or wrongful conduct of another person. Situations in which a wrongful death may happen include, but are not limited to, the following:
Auto accidents

Medical malpractice

Defective products

Workplace accidents
A wrongful death claim may help a family find solace with the knowledge that the negligent party was held accountable for their actions. In Alabama, wrongful death claims may be filed by any of the following family members:
Surviving spouses

Children

Parents

Grandparents

Siblings
Coping with a Loved One's Wrongful Death
Aside from filing a wrongful death claim, the following coping measures may help surviving family members move forward after a relative's wrongful death:
Talk about your feelings. Keeping your emotions bottled up inside can be detrimental to your psychological and emotional well-being. Make sure to discuss your feelings with close loved ones or a licensed therapist.

Take care of yourself and your loved ones. It's more important than ever that you practice self-care during this time of grief. Try to eat healthy foods, exercise, and get plenty of sleep.

Reach out to your support network. Friends and family are vital support systems during a time of grief. Try not to close yourself off from them; their support can help you cope during this time.
Need Help with a Wrongful Death Claim? Contact Us Today
If one of your loved ones passed away due to the reckless actions of another, our Mobile attorneys are here to help. By demanding a high level of attention to every case, we have achieved record-setting verdicts and settlements for our clients whose loved ones were killed by the negligent conduct of others.
Contact Cunningham Bounds today at (844) 417-0930 to schedule a free consultation with our team.