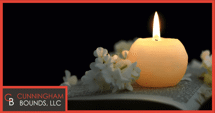 If your loved one has passed due to the negligence or misconduct of another, a wrongful death suit may be filed on their behalf.
Read on to learn how you can prove your loved one died wrongfully.
Factors of Wrongful Death
According to Alabama state law, a wrongful death is one that occurs due to the wrongful act, omission, or negligence of another person or entity. However, no family members may file a suit. Only the representative of the decedent's estate may file a wrongful death lawsuit against the entity at fault.
Proving Wrongful Death
Without the help of a skilled attorney, proving wrongful death can be very challenging. In order to prove wrongful death in Alabama, the following elements must exist:
Evidence of duty of care: You must be able to prove that the accused party owed your loved one a duty of care when the death occurred. For example, a doctor has a duty to treat patients with adequate skill and care.

Breath of duty of care: You must be able to prove that the accused party breached their duty of care in some way. This can be through a negligent act, misconduct, or willful intent to cause harm.

Causation from the breach to the death: You must be able to prove that there's a relevant cause between the accused's breach of duty and your loved one's death. For instance, the accused may not be held responsible for the death if a third party prompted it.
You may also be able to prove causation by determining a connection between the breach of duty and the death. Alabama case law has determined that a wrongful death claim may be brought by demonstrating that the wrongful conduct triggered or helped to solicit the death.
We're Here to Help
If your loved one lost their life due to someone else's negligence or misconduct, our attorneys at Cunningham Bounds are here to help. Our team has handled many Alabama wrongful death cases in the past, and we can help with yours, too. Don't hesitate to give our office a call right away.
Contact our team today at (251) 299-0101 to schedule a free, no-obligation consultation.