Exactech Knee and Ankle Recall
Why Have Exactech Knee and Ankle Inserts Been Recalled?
On February 7, 2022, Exactech announced that most of the knee and ankle arthroplasty polyethylene inserts it has manufactured since 2004 were packaged in "non-conforming" vacuum bags.
During the time the inserts are stored in the bag, they are exposed to oxygen (called "oxidation"),which can cause them to wear out faster or become damaged after they are implanted. The damage to the inserts causes them to loosen, crack, or fracture and results in bone loss, pain, and swelling that can lead to a revision surgery. Nearly 150,000 defective Exactech knee and ankle inserts have been implanted in the United States since 2004.
Which Knee and Ankle Inserts Are Affected?
Optetrak, Trulliant, and Vantage systems, described in more detail below, are all affected.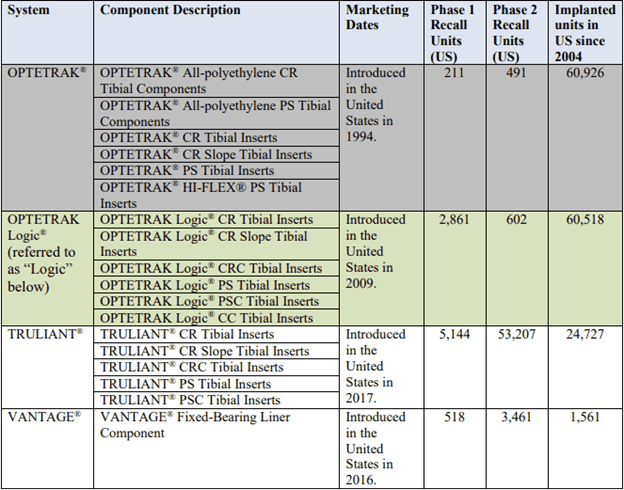 What Symptoms Do Patients With Recalled Exactech Knee and Ankle Inserts Experience?
New or worsening pain
Inability to bear weight
Grinding or other noise
Swelling
Instability of knee or ankle
Previous or planned revision surgery
What Should You Do?
If you or a loved one had an Exactech knee or ankle replacement and experience any of the symptoms above, contact us to speak with one of our lawyers.
Cunningham Bounds has been representing plaintiffs for over 60 years. The firm has achieved a national reputation as a result of its trial expertise and precedent-setting verdicts for its clients throughout the United States. The attorneys of Cunningham Bounds routinely go head-to-head with some of the best defense attorneys in the country. They have obtained multi-million – and even multi-billion – dollar verdicts against national and international corporations including: Exxon, Ineos Phenol, Hobart Corporation, Rheem Manufacturing, General Motors Corporation, Ford Motor Company, Aetna Life & Casualty Company, ShawCor Ltd., Halliburton, Target Corporation, Kia Motors of America, Mack Trucks, Mobil Oil Company, and General Motors. Cunningham Bounds has a reputation of being one of the toughest firms to beat. Our attorneys work tirelessly to achieve the best possible result for each client, and the firm's impressive record of verdicts and settlements proves it.
Call (251) 299-0101 to learn more about your legal options!
The Cunningham Bounds Experience
With You to the End

Unlike most plaintiff law firms, we have our own appellate practice, which means we can stay involved in your case throughout the appeals process. We keep fighting until the case is over.

Committed to Our Community

We believe in giving back to our community. We provide pro bono (no cost) legal services to those in our community who can't afford legal representation. We also support local charitable organizations by donating our time, money, and expertise.

With Us, It's Personal

Throughout your case, our team will always be accessible, responsive, respectful, honest, and compassionate. Our clients can attest to our high level of service and the longstanding relationships we have forged with them.
Don't Settle For Less
At Cunningham Bounds, we work tirelessly to get the best possible result for you.
Building Longstanding Relationships
I am thoroughly appreciative of how things turned out. - Martha

Amazing group! - Michele

We are fortunate you and your colleagues accepted us as your clients. - Joneses Family

Thanks to ALL of you! - Former Client

This firm went above what was asked of them. - Kristie