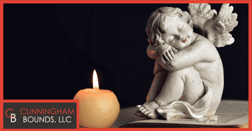 If your loved one lost their life due to someone else's negligence or misconduct, you'll want to do all you can to gain justice for their death. While there's no amount of money that can bring your loved one back, being compensated for their death can help provide a sense of relief that those who did wrong were punished for their negligence.
No one likes to see criminals get away with murder—why should death by another's negligence be any different?
Read on to learn what qualifies as wrongful death.
Aspects of a Wrongful Death Lawsuit
The following factors must all be present in order to bring forth a viable wrongful death suit:
A person's death occurred.

Someone else's negligence or misconduct caused the death.

A personal representative has been appointed for the decedent's estate.
Keep in mind that negligence and misconduct can be intentional or unintentional. For example, if a person intended to cause harm to the deceased, but didn't intend to kill them, they may still be sued for wrongful death.
Reasons a Wrongful Death Lawsuit May Arise
There are many reasons why a wrongful death lawsuit may come about, but some of the most common reasons people file these types of suits are due to the following:
Medical malpractice that results in a patient's death

Auto or airplane accident

Occupational contact with dangerous conditions or substances
Not Just Anyone Can File a Wrongful Death Suit
Alabama has specific rules regarding who is allowed to file a wrongful death lawsuit. In most states, the family members of the decedent may file a lawsuit. This is not the case in Alabama. In fact, a family member may not file a suit on their own behalf or on behalf of their deceased loved one.
The only person who is allowed to file a wrongful death lawsuit in Alabama is the personal representative of the decedent's estate. However, damages awarded from wrongful death suits do not go to the decedent's estate as they do in other parts of the country. Wrongful death damages are awarded directly to the decedent's heirs.
Statute of Limitations
If you intend to bring forth a wrongful death suit, the state of Alabama limits the time you have to do so. You should contact Cunningham Bounds as soon as possible for an evaluation of the statute of limitations in your case.
Compensatory Damages
Alabama is unique in the sense that compensatory damages are not allowed in wrongful death lawsuits. Compensatory damages are awards designed to provide financial relief for the burden that has been caused due to the death of your loved one. These damages typically cover the costs for the following:
Lost wages

Loss of future income

Loss of future inheritance

Funeral expenses

Medical bills
Punitive Damages
Alabama is the only state in the U.S. that limits recovery in a wrongful death claim to punitive damages only. Punitive damages are awarded to the plaintiff in order to punish the defendant for wrongdoing or to try and encourage others not to act in similar ways in the future.
While most other states focus on the tangible, economic damages you may experience from a loss of your loved one, Alabama primarily focuses on the defendant's wrongdoing.
Wrongful death in Alabama is designed to do two things:
Punish a defendant that acted negligently

Prevent others from conducting similar negligence in the future
We're Here For Your Support
If your loved one lost their life due to someone else's negligence or misconduct, our attorneys at Cunningham Bounds are here to help.
Our team has handled many Alabama wrongful death cases, and we can help with yours, too. Don't hesitate to give our office a call right away. The last thing you want is to allow the people who are responsible for your loved one's death to get away with their actions.
Contact our team today at (844) 417-0930 to schedule a free, no-obligation consultation.