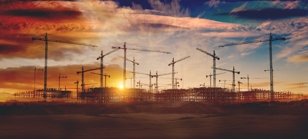 A construction site is one of the most dangerous job sites for workers. While there are innumerable hazards on such a site, there are certain hazards that play a major role in most construction site accidents. Learn the "fatal four" construction site hazards and what you can do to protect your rights after a construction site accident.
#1. Falls
Most construction sites involve multiple stories, which means that workers will spend much of their time suspended high above the ground. Sadly, this results in many accidents and fatalities when workers were not provided with the right safety equipment to either prevent or mitigate falls.
Employers can work to prevent construction site falls by:
Providing safety harnesses to workers and mandating their usage
Installing and maintaining proper perimeter protection
Covering and securing floor openings
#2. Struck-By
Struck-by accidents involve a worker getting hit by moving objects, such as job site vehicles, equipment, loads, and more.
Employers can work to prevent struck-by accidents by:
Providing workers with brightly-colored or reflective clothing or vests
Designating certain "safe zones" where vehicles cannot travel
#3. Caught In/Between
Caught in/between accidents involve a worker getting trapped in between or under equipment or hazardous areas, such as ditches in the ground.
Employers can work to prevent caught in/between accidents by:
Marking hazards with signage in a language every worker can understand
Providing proper training on heavy machinery
Installing coverings over dangerous areas
#4. Electrocution
Construction sites have plenty of exposed wiring that create serious electrocution hazards. Such hazards can cause catastrophic burn injuries or even death.
Employers can work to prevent electrocution accidents by:
Identifying exposed wiring or other utilities before beginning work
Grounding or double-insulating portable electric tools for workers' use
Using ground-fault circuit interruptors for protection
If you have been injured in a work accident, there are several different courses of action you may take to recover compensation. Our personal injury attorneys at Cunningham Bounds can discuss your situation and decide the right approach to recover maximum possible compensation.
Contact Cunningham Bounds at (251) 299-0101 to schedule a free consultation.