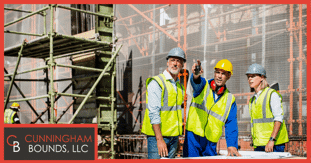 Construction is an inherently dangerous job and, as such, construction workers face more hazards on the job than most people. These hazards result in an average of 5,250 construction workers dying on the job every year. Those who do not experience fatal injuries may suffer from catastrophic injuries that change their lives forever.
In the wake of such devastating accidents, who can be held responsible for damages? It's not right for injured workers and their families to pay for sudden medical bills and lost wages when another party is responsible. Learn who may be held accountable below.
#1. Your Employer
In most cases, injured workers will recover damages from their employer's workers' compensation program. Most Alabama workers are eligible for workers' compensation, except for those who fall into the following categories:
Domestic employees
Farm laborers
Casual employees
Employees of municipalities having a population of less than 2,000
It's important to keep in mind that you are not suing your employer directly for damages. Most state laws prevent this. Instead, you recover damages from the workers' compensation program that your employer should have joined.
#2. An Equipment Manufacturer
In some cases, you may be able to file a product liability claim against the manufacturer of a defective piece of equipment that caused your injury. Manufacturers are required to send safe and reliable products to the market, and the failure to do so may make them liable for any accidents and injuries that result from the use of their defective products. These defects may include:
Design defects
Manufacturing defects
Marketing defects
#3. A Third-Party
You may be able to sue a third-party who was on your job site and caused your accident. For example, if a contractor from another construction company was on your job site and hit you with a vehicle, that individual and their employer may be held liable for the accident.
It's important for you to contact an experienced personal injury attorney who is well-versed in your state's unique work injury laws and can help you recover the compensation you deserve. Our trusted trial attorneys at Cunningham Bounds have been in business for over six decades, and we know how to create a winning case strategy in court.
Call Cunningham Bounds at (844) 417-0930 to schedule a free consultation.