Mobile Drunk Driving Accidents Lawyers
Contact An Alabama Injury Firm Known For Excellence
Injured in an accident by a drunk driver? With an extensive history of successful case results and a multitude of professional awards for industry excellence, let the Mobile drunk driving accident lawyers at Cunningham Bounds represent you. Our law firm was first founded in 1958, and we have fought hard for the fair treatment of the injured ever since. With over 60 years of experience, you know you can trust your drunk driving claim with our Mobile law firm.
Contact us Online today. or by phone at (251) 299-0101Our Mobile drunk driving accident attorneys can review your DUI accident case in a free, confidential consultation!
Important Evidence in Drunk Driving Accident Claims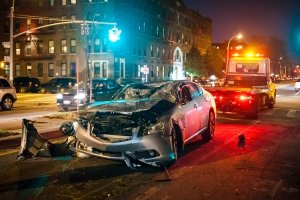 According to the National Highway Traffic Safety Administration (NHTSA), approximately 20% of all car accidents are caused by or involve an intoxicated driver. This equates to thousands of drunk driving accidents every day. If you or someone you love was injured by a drunk driver, then you need to know what to do next to get compensation and justice.
When you need to file an accident claim, the evidence you have that backs up your statements is crucial. Even though it might be clear to you that the other driver's intoxication is the root and sole cause of your collision, it may not be so obvious to others.
The defending insurance company will jump at the chance to reduce any payout. Our attorneys move with the same urgency to make sure your rights are not overlooked, that you are treated fairly and that you receive maximum compensation from the accountable parties.
Sources of evidence that could prove useful for your injury claim include:
Conviction: Although criminal courts of law operate separately from civil courts, a driving while intoxicated (DWI) or driving under the influence (DUI) conviction of the person who hit you can be a powerful indicator of liability to use in your case.
BAC report: The evidence the police collected at the scene of your crash should also be utilized to your advantage. In particular, if the defendant took a breathalyzer test that showed he or she had an illegally high blood alcohol concentration (BAC) level at the time of the crash, our attorneys will use that evidence as part of your injury claim.
Criminal record: There may also be useful proof of the defendant's recklessness within their own criminal or driving record. A history of DUI convictions, speeding citations, and so forth can also show that a person has a tendency to put others in danger. This is especially important if you are hit by a commercial driver and there is evidence that his or her employer knew about this criminal history and continued to permit them to drive commercial vehicles.
Of course, traditional forms of evidence used in any other type of car accident claim will be useful for your DUI accident claim as well. For example, eyewitness testimonies, dash-cam footage, and photographs taken on your cell phone can all benefit your case. Our firm is equipped with a team of investigators that are highly-experienced and work side-by-side with our attorneys to secure the evidence necessary to prove your case!
Fighting for Every Penny of Compensation You Deserve
Our Mobile DUI accident attorneys will work diligently to analyze your case and determine what damages should be repaid to you. The compensation you collect should help pay for medical costs, rehabilitation services, lost wages, property repair or replacement, and non-economic damages, like pain and suffering. We will work tirelessly for you.
Call (251) 299-0101 or contact us online to put a top-rated Alabama Personal Injury law firm in your corner.
The Cunningham Bounds Experience
With You to the End

Unlike most plaintiff law firms, we have our own appellate practice, which means we can stay involved in your case throughout the appeals process. We keep fighting until the case is over.

Committed to Our Community

We believe in giving back to our community. We provide pro bono (no cost) legal services to those in our community who can't afford legal representation. We also support local charitable organizations by donating our time, money, and expertise.

With Us, It's Personal

Throughout your case, our team will always be accessible, responsive, respectful, honest, and compassionate. Our clients can attest to our high level of service and the longstanding relationships we have forged with them.
Don't Settle For Less
At Cunningham Bounds, we work tirelessly to get the best possible result for you.
Building Longstanding Relationships
The best law firm in America! - Hugh

Ms. Tufts demonstrated considerable skill & legal knowledge in dealing with facts as they occurred. - Samuel

Outstanding law firm with such caring & highly qualified attorneys! - Nancy

You were "stability" throughout it all. - A Client's Mother

Best group in town! - Jamie
Leaders in the Industry
Recent Articles & Press Releases