Bus Accident Attorneys in Mobile, AL
Call
(251) 299-0101

If You Were Hurt in a Bus Accident Anywhere in Alabama.

Like any other vehicle, buses in Alabama can get into accidents. However, unlike most other vehicles, city, school, and commercial buses typically carry around 56 passengers. An accident that involves a fully-filled bus can result in countless injuries and even multiple wrongful death claims.

Founded in 1958, Cunningham Bounds is one of the oldest and most prestigious personal injury law firms in Mobile, AL. Our exceptional case victories and commitment to our clients has resulted in us being named to Best Lawyers of America, The Inner Circle of Advocates, LawDragon, and many others.

Contact us for a free consultation. Our firm has recovered billions of dollars for clients.
Common Injuries Sustained in Bus Accidents
If you've ever been on a school bus or used public transportation, you've probably noticed that most buses do not have seatbelts or safety features found in passenger vehicles. The combination of the lack of restraints plus the sheer weight and size of buses often causes passengers to suffer serious injuries. These injuries include, but are not limited to:
Cuts and lacerations
Broken and dislocated bones
Whiplash
Neck and back injuries
Amputation/loss of limb
When you are dealing with any of the above injuries, you will likely feel overwhelmed by pain, loss of income, and medical bills. Filing a personal injury claim can help you recover economic damages and peace of mind.
Holding All Parties Responsible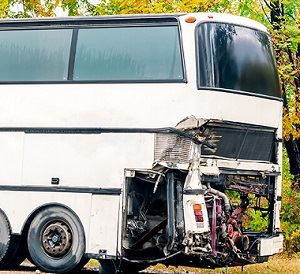 Due to the nature of bus transportation, multiple parties can be held liable for your losses. Unlike car accidents, which are primarily caused by driver error, bus accidents can be caused by the negligence of the bus company. If the vehicle was not properly maintained or the driver was fatigued due to overscheduling, multiple parties can share responsibility.
Bus accidents are most frequently caused by:
Violation of service requirements
Faulty equipment
Distracted driving (sometimes caused by unruly passengers)
Drowsy driving
Aggressive driving (A.K.A. road rage)
Driving under the influence of drugs and alcohol
Speeding
In some cases, the accident can be caused by a driver outside of the bus. When this happens, the driver of the other vehicle can be held responsible. Still, fault in accidents is usually determined by a percentage of liability, so you may be able to hold both the bus driver or transportation company AND the driver of the car partially accountable.
Investigating the Bus Accident
At Cunningham Bounds, we start by conducting an investigation of your accident. That way, we can see exactly what went wrong and determine which parties carry fault. Our firm is proud to have an in-house team of investigative professionals to carry out this task with certified expertise. Our investigations hold up in court, just like our representation.
To make sure you have the best team on your side, call (251) 299-0101 and schedule a free consultation today.
The Cunningham Bounds Experience
With You to the End

Unlike most plaintiff law firms, we have our own appellate practice, which means we can stay involved in your case throughout the appeals process. We keep fighting until the case is over.

Committed to Our Community

We believe in giving back to our community. We provide pro bono (no cost) legal services to those in our community who can't afford legal representation. We also support local charitable organizations by donating our time, money, and expertise.

With Us, It's Personal

Throughout your case, our team will always be accessible, responsive, respectful, honest, and compassionate. Our clients can attest to our high level of service and the longstanding relationships we have forged with them.
Don't Settle For Less
At Cunningham Bounds, we work tirelessly to get the best possible result for you.
Building Longstanding Relationships
I am thoroughly appreciative of how things turned out. - Martha

I will forever be grateful for their representation. - Debby

Amazing group! - Michele

I am forever thankful. - Neil

Ms. Tufts demonstrated considerable skill & legal knowledge in dealing with facts as they occurred. - Samuel