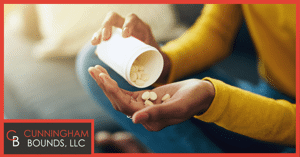 Zantac®, a ranitidine medication commonly used to treat heartburn, was removed from the market by the U.S. Food and Drug Administration (FDA) for its association with certain cancers.
Below, our Mobile personal injury attorneys explain how regulators discovered that Zantac® was dangerous for consumers, and what you can do if you have been negatively impacted by this medication.
Why Was Zantac® Recalled?
In September 2019, an online pharmacy called Valisure submitted a Citizen Petition to the FDA and asked the regulatory agency to recall medications containing ranitidine. One of the recalled medications included Zantac®, a popular treatment for heartburn.
Valisure discovered that Zantac® (and other ranitidine medications) contained extremely high levels of N-Nitrososdimethylamine (NDMA), a possible human carcinogen. While NDMA is not harmful at low levels and is commonly ingested in the diet, extremely high levels can increase the risk of cancer in humans.
In fact, Valisure discovered that Zantac® contained over 3,000,000 ng of NDMA per tablet, which is equivalent to 30 packs of cigarettes.
Soon after the Citizen Petition was filed, the FDA notified the public that excessive amounts of NDMA had indeed been found in ranitidine medications, and soon after, manufacturers issued nationwide recalls.
The FDA also recommends that consumers stop taking over-the-counter ranitidine medications, to dispose of them properly, and to use another OTC product. Consumers taking prescription ranitidine medications should consult with their physicians before stopping the medicine suddenly, as there are other medications that address the same issues as Zantac®, but without the dangerous side effects.
Zantac® is Associated with Certain Cancers
NDMA is a known human carcinogen and, when ingested at high enough levels, can increase a person's risk of developing cancer. The cancers most commonly associated with high NDMA exposure include:
Colorectal cancer
Stomach/gastric cancer
Small intestine cancer
Esophageal cancer
Liver cancer
Prostate cancer (60 years or younger)
Pancreatic cancer
Leukemia
Non-Hodgkin's lymphoma
Multiple myeloma
While not every case of cancer is terminal, particularly when caught early enough, it is unacceptable that any consumer should have to go through the physical, emotional, and financial pain of a cancer diagnosis because they took a medication that should have been safe.
What to Do if You Developed Cancer After Taking Zantac®
If you or someone you love took Zantac® or another ranitidine medication and developed cancer, it's important that you speak with one of our qualified personal injury attorneys as soon as possible.
Pharmaceutical companies have near-limitless resources at their disposal and, as such, an incident such as the one involving ranitidine medications and dangerous doses of NDMA is completely unacceptable.
Additionally, evidence has come to light that this incident was not in fact an error, but rather an act of gross negligence. Early investigations have raised concerns that pharmaceutical companies knew that Zantac® greatly increased a person's chances of developing cancer, but decided to hide this information from the public.
Our Alabama Attorneys Are Here to Help You Obtain Justice
If you or someone you love took Zantac® or another ranitidine medication and have since developed cancer, our Mobile attorneys are here to fight for you. We have represented plaintiffs for over six decades, and we have achieved a national reputation as a result of our trial experience and precedent-setting verdicts for clients across the country.
Our attorneys often face large corporations and the best defense attorneys in the country, and we have achieved multi-million and multi-billion dollar verdicts against them. We're known as one of the toughest firms to beat, and we want to put this expertise to work for you and your family.
Contact Cunningham Bounds today at (251) 299-0101 to schedule a free, no-obligation consultation with our team.